We select the 5 best cryptocurrency to buy for a rally this weekend. Our selection is a combination of lower-risk large cap established coins and lesser-known digital assets that have caught the eye of buyers going into the weekend.
Best cryptocurrency to buy for a rally this weekend: ETH, XRP, ADA, AVAX, BTT
1. Ethereum (ETH) – leading the market higher
Ethereum has been outperforming bitcoin all year and that's set to continue going into the weekend, even though some more of the smart money is starting to find its way into other alt coins.
Buried in Coinbase's results this week was mention of the facts that Ethereum was the most-traded asset on the platform Q2 and the boost from the success of the London upgrade can only add to the buying interest.
As the go-to blockchain for DeFi and NFTs, ethereum is one of the few digital asset networks that can point to such use can success on the adoption front.
The Poly Network hack initially looked like it had the potential to blind-side DeFi valuations this week but the return of the stolen funds in what looks more like a white hacker action that turns out to be a positive of sorts.
Poly is offering the hacker(s) a bug bounty of $500,000 and the way in which the great and the good of the crypto world were able to track the funds and shutdown laundering options was impressive too.
And when it comes to NFTs the party is still building. OpenSea, the largest NFT marketplace, has seen trading volumes mushroom by 76,240% this year.
Meanwhile 37575.9 ETH have burnt for a value of $121,346,982.07, showing the London upgrade working well. Checkout etherchain.org for the latest data.
Ethereum is long term, lower-risk buy 
Capital at risk
2. Ripple (XRP) – taking out $1.00 clears way forward
Our number two best cryptocurrency to buy this weekend is Ripple's XRP. Ripple Labs opened up an on-demand liquidity corridor in Japan two weeks ago, giving the coin a substantial lift as far as adoption fundamentals go and that is helping to spice interest.
The ongoing discovery process in the Securities and Exchange Commission (SEC) trial drags on. The latest episode saw the SEC complaining this week that Ripple had not handed over to the court all the Slack messages that the SEC had asked for. 
Lawyer Jeremy Logan who has been following the case and posting regularly on Twitter about it for the large and ardent XRP community, says the SEC is making a flanking attack in its attempt to prove that Ripple's XRP is a security and thinks it can find in the Slack comms evidence that Ripple "marketed and treated XRP like a security".
The more that Ripple can show the token being used as a currency bridge in, for example, ODL operations, the more that strengthens its defence. 
However, although the trial is an ever-present cloud hanging over the price of XRP, going into the weekend, the price has broken through $1.00 on several occasion, although is currently having difficulty holding above that all-important psychological level.
Nevertheless momentum is on XRP's side, with the token up 35% against the dollar in the past seven days , 21% against ETH and 24% against bitcoin. There's no reason to expect the bulls won't be coming out to play this weekend
XRP year to date high is $1.9378 14 April, so the price has a way to. Go yet before getting back in striking distance of a price that would definitively confirm the bull market is back for the token. The XRP army will be queuing up to buy this weekend as alt coin season gets going again.
XRP hit its all-time high (ATH) of $3.40 7 January 2018.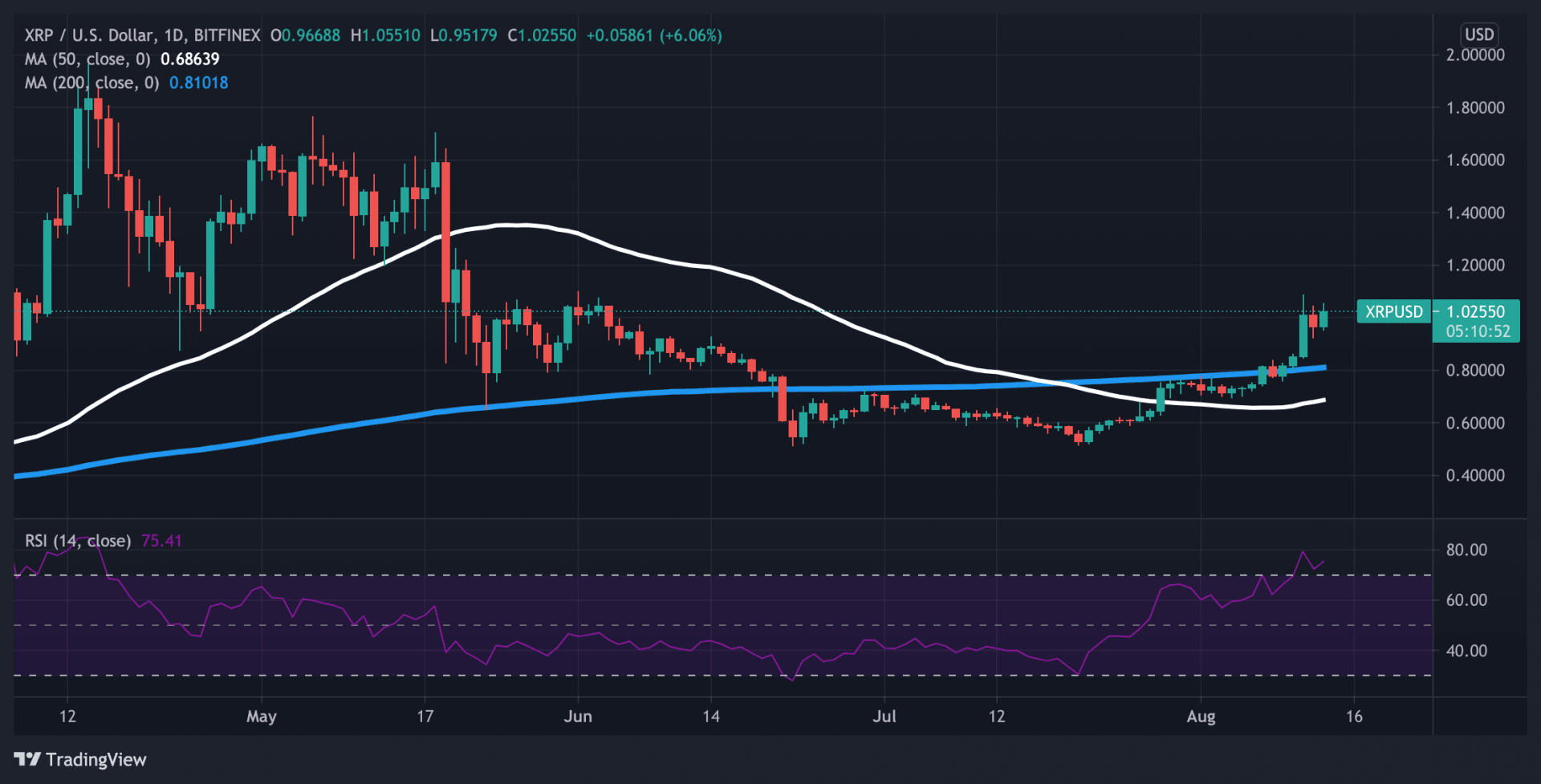 XRP is a medium-risk buy
Capital at risk
3. Cardano (ADA) – Alonzo teasers to keep buyers interested
Cardano is our third best cryptocurrency to buy. Cardano has been a slow burn when it comes to the rollout of its roadmap, and that had held back the price – until the Shelley phase rollout last year and the subsequent price action this year. 
It was not until 2020 that Cardano became a properly decentralised blockchain, when the Ouroboros framework went live.
The next milestone on the roadmap is the Alonzo hard fork, which will enable the network to run smart contracts. This was scheduled to take place in early October.
However, the Cardano community is getting worked up about Alonzo right now, with founder Charles Hoskinson slated to make an announcement to reveal further details about Alonzo. That has now happened and the hard fork has been brought forward to 12 September.
This may explain the red hot price action this week, which has seen the price of ADA explode 41% in the past seven days and has outperformed ETH by 27% and BYC by 30%.
Unlike XRP, ADA is much closer to its ATH of $2.42 it reached in May. In the march to reclaim and surpass that lofty level, ADA has today broken through resistance at the $2.0, which sets the asset up nicely for a run past $2.10 going into the weekend.
If you are just starting out with crypto you may want to check out our beginner's guide before you start trading.
Crypto is much easier to purchase these days and you can even buy bitcoin with PayPal.
ADA is a long-term buy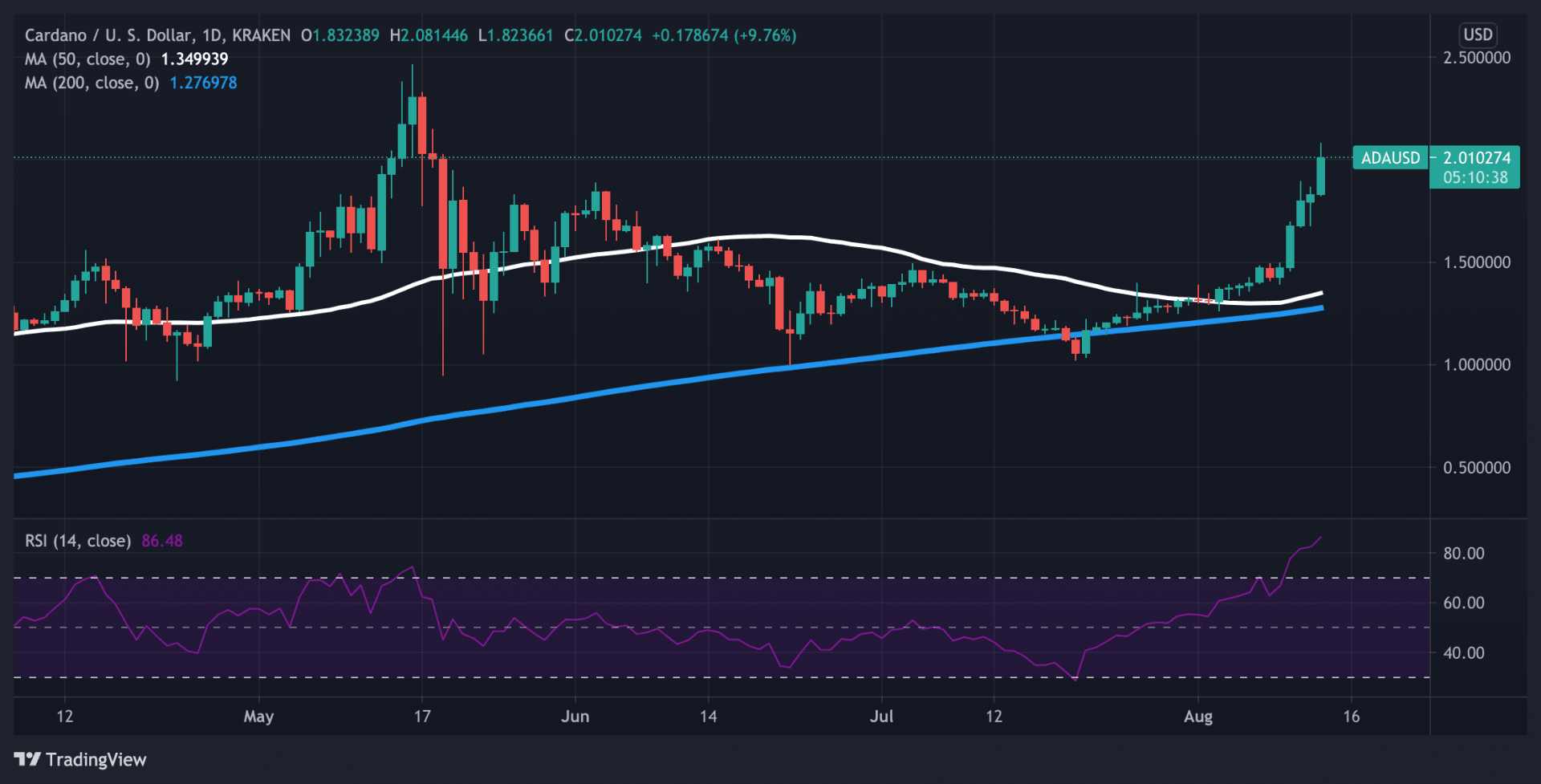 Capital at risk
4. Avalanche (AVAX) – first DeFi  protocol BENQI launches on Avalanche
Our fourth best cryptocurrency to buy for a rally this weekend is Avalanche (AVAX), the 42nd ranked coin according to coinmarketcap. It is up 13% in the past 24 hours and up 19% in the past seven days, currently priced at $17.86. The network claims to be the first smart contract platform able to offer transaction finalisation in under 1 second and the main net went live in September last year.
This week saw an event on the network following the launch of BENQI, the first lending/borrowing protocol on Avalanche. This last missing piece finally enables DeFi to take off on Avalanche. To celebrate this, Avalanche has announced a $3 million Liquidity Mining Initiative for BENQI to attract DeFi users to the protocol. 
That may be behind the buying interest around the coin going into the weekend and could continue on Saturday and Sunday.
In addition to creating and running applications, developers can also create custom blockchain networks with the flexibility to build complex rulesets or layer onto already existing public or private subnets.
"Decentralized finance (DeFi) is primed to take off on Avalanche with the arrival of another cornerstone DeFi functionality. BENQI is joining a rapidly growing ecosystem of DeFi users, assets, and applications on Avalanche, and we expect users and developers to leverage BENQI to expand the utility of their assets." says JD Gagnon, co-founder of BENQI.
High-risk short-term buy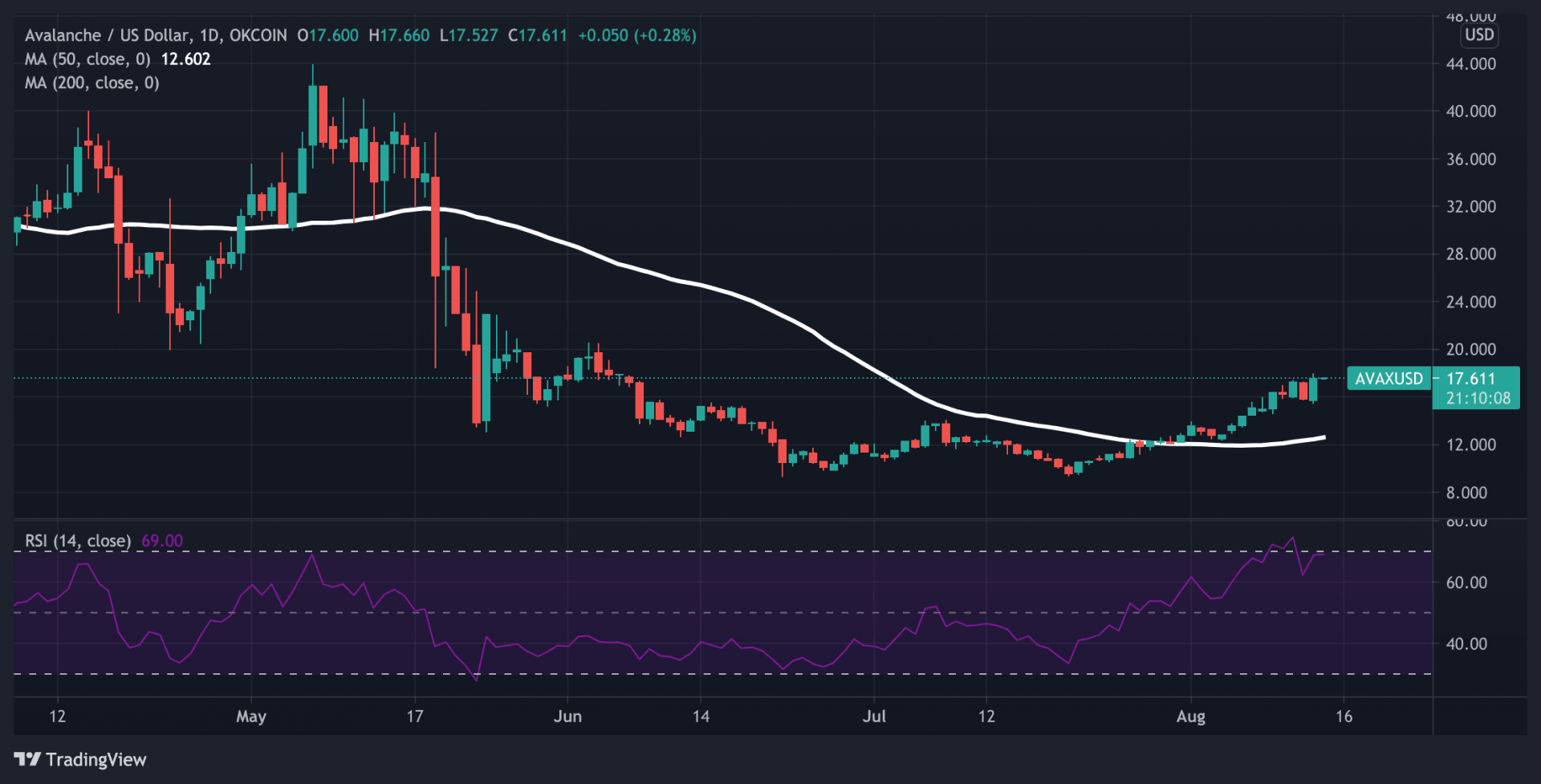 Capital at risk
5. BitTorrent (BTT) – doubled in price in a month 
Our fifth best cryptocurrency to buy is BitTorrent token – the native asset of the famous peer to peer file-sharing network. It is a regular trending crypto on the fast-growing StockTwits platform at weekends. Just two days ago it jumped in price by 45%. Over the past month it has almost doubled in price and is currently priced at $0.0468.
BTT is probably the best known token running on the TRON network as as such is a TRC-10 compliant token. Justin Sun's TRON bought BitTorrent in 2018 but the high hopes of the purchase accelerating crypto adoption, but the advent of crypto winter stalled those efforts.
But torrent lovers can now earn BTT by installing the Windows or web BitTorrent app an extension called BitTorrent Speed is also installed which automatically bids BTT to other network users for faster speeds. Without having to do anything, after you finish downloading a file the BitTorrent client can automatically earn BTT by seeding.
Currently trading above key 200- and 50-day moving averages, the coin is building up solid support. However the relatives strength index is deep in overbought territory on a reading of 84 so a further rally into the weekend could be followed by a drop as traders look to take profits.
BTT is a high-risk short-term buy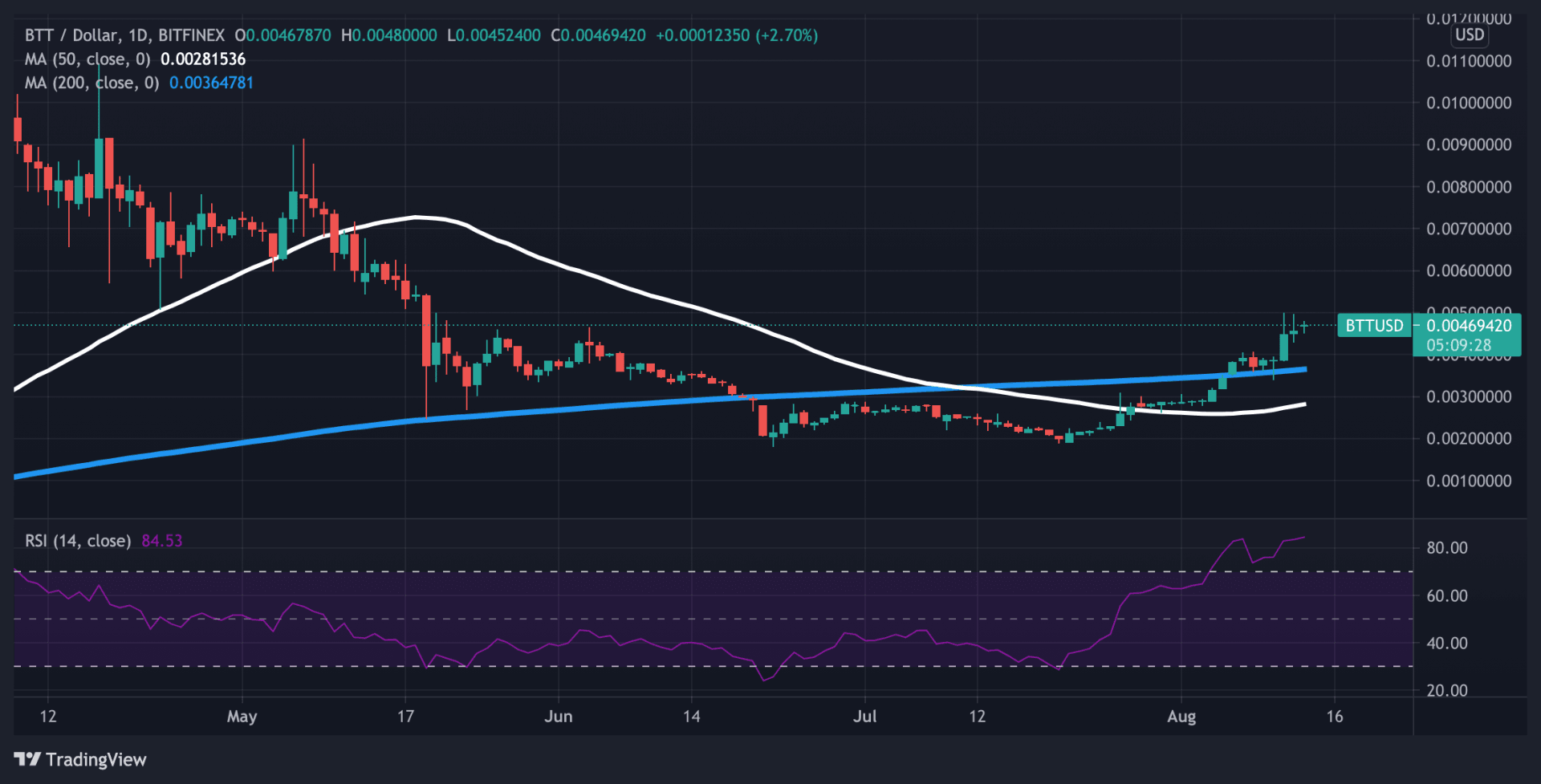 Looking to buy or trade Crypto now? Invest at eToro!
Your capital is at risk